Article
100,000 lives too many, including a member of the JDCA family
May 28, 2020
This week, we reached a devastating milestone amid the coronavirus pandemic with 100,000 American lives lost. This is 100,000 lives too many, which sadly includes a member of the JDCA family. JDCA's founder and chair, Ron Klein, lost his father, Marvin Klein z"l, this week due to complications from COVID-19. Each of the 100,000 Americans lost has family like the Kleins in mourning. Our heart breaks for each of them. We send our prayers and hopes that the memories of their loved ones are for a blessing. If you would like to send a note to Ron and his family, please email him at [email protected]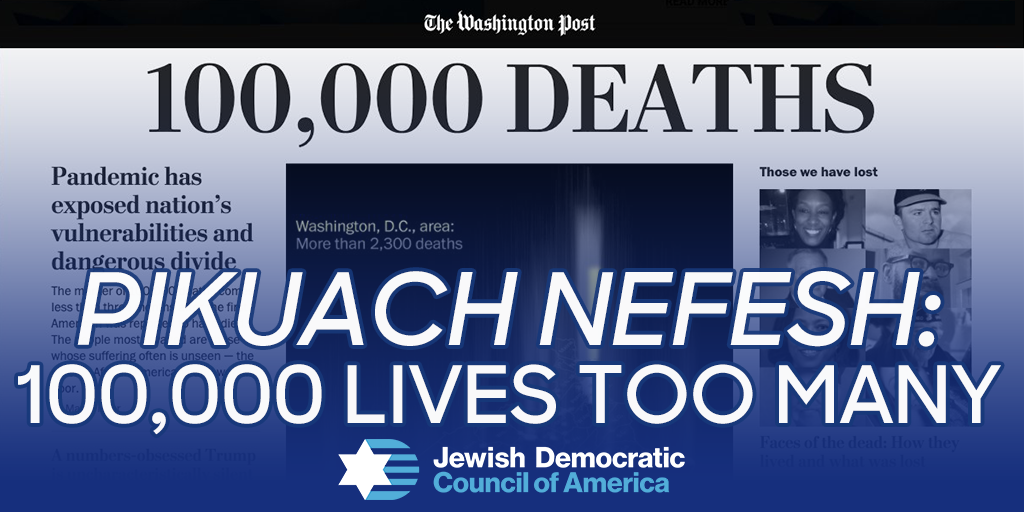 As we mourn and approach Shavuot, we are also reflecting on the Jewish value of pikuach nefesh, the preservation of life. Judaism teaches that whoever saves a single life is considered to have saved the entire world. As our states reopen, the sanctity of life should come above all else, including our desire to return to normalcy. We are confident our nation will overcome this pandemic, but until we do, we are heeding the warnings of experts – like Dr. Fauci – who are raising concern over quick re-openings that could cause more suffering.
We are also speaking out. This week, I wrote an op-ed for NBC News about the two words from President Trump's inaugural address that now have a deeper meaning – "American carnage." As a former Obama administration official, I was there during the presidential transition in early 2017 when the incoming Trump administration was warned about the need to prepare for a pandemic. The Trump administration blatantly ignored experts for more than three years, including once coronavirus emerged in the United States.
As I say in the piece, America had the lead time and Trump failed to lead. Now, due to Trump's astounding failure of leadership, we are living the American carnage he imagined on his first day of office. As a study from Columbia University notes, if social distancing had started just one week earlier in March, 36,000 lives could have been saved. This must never happen again, which is why we're doing everything we can to elect a president who will be guided by science, facts, empathy, and pikuach nefesh – Joe Biden.
Sadly, this crisis has deepened hatred and divisions in our country, including increased racism, anti-Semitism, white nationalism, and other forms of extremism. This coming week, please join our next webinar on Tuesday, June 2 from 3:00pm to 4:00pm ET, for a conversation with Integrity First for America (IFA). IFA, in partnership with a world-class team of attorneys, is suing the neo-Nazis, white supremacists, and hate groups who orchestrated the Unite the Right violence in Charlottesville in August 2017. They will talk to us about the case, as well as the rise of white supremacy from Charlottesville to state capitals amid the COVID-19 pandemic. We hope you'll join us to better understand the rise of extremism over the last few years.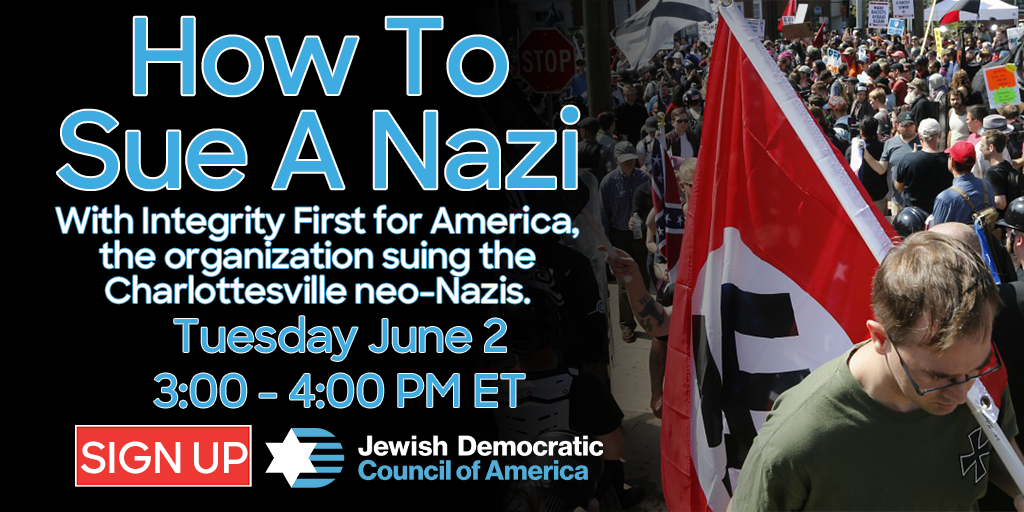 This has been a difficult week for America and we feel the pain of those who have lost loved ones to this terrible disease. In this moment, we are more committed than ever to building a brighter future for our children and all Americans. We wish you a Shabbat Shalom and Chag Sameach.
Halie Soifer,
JDCA Executive Director