Article
​Four more years of hate? No, thank you.
July 15, 2020
Each and every day, President Trump signals that his campaign mantra is "four more years of hate." Whether it's what Trump says or does, or the people who surround him, it's clear that hatred is an organizing principle for this White House.
Yesterday, Trump announced the appointment of Nazi-sympathizer Sebastian Gorka to a key administration position. JDCA responded that "Sebastian Gorka, who proudly wore Nazi medals at Trump's inauguration and has a 'sworn affiliation' with the Hungarian Vitézi Rend Party, has no place in the U.S. government, let alone the White House." We're saddened but not shocked that a president who amplified calls for 'white power', advertised on Facebook using Nazi images, and sold campaign shirts with the Nazi Eagle would hire a Nazi-sympathizer for a key position in the White House. Our statement is enclosed below.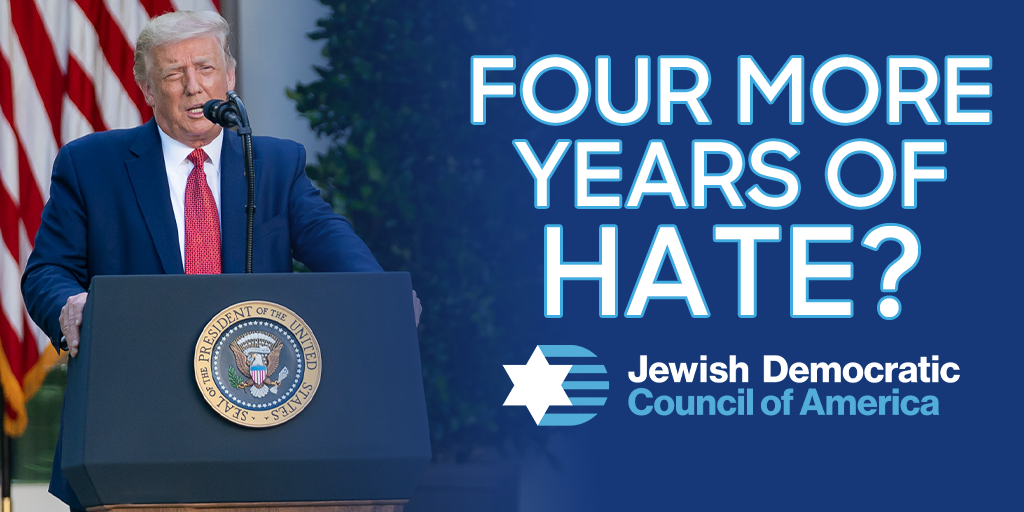 We don't have to accept any of this as normal, and we're not going to. With 110 days to go before this critically important election, we're speaking out on behalf of our values, and are happy those values will be reflected in the Democratic Party Platform. Today in Jewish Insider, JDCA Executive Director Halie Soifer said that we're confident the Democratic Party Platform "will continue the party's longstanding support for Israel, its security and a negotiated solution to the Israeli-Palestinian conflict" that "will reflect Joe Biden's ironclad support of the U.S.-Israel relationship, as demonstrated by his decades of leadership in the Senate and role finalizing an unprecedented security assistance agreement with Israel in the White House."
Yesterday, Halie published an op-ed in The Forward highlighting how the ongoing movement for racial justice will drive Jewish votes in November. In it, she writes, "The president has repeatedly demonstrated that he's unwilling to serve as a leader for all Americans, and he's made racism and hatred an issue that will drive votes in the 2020 election. The more Trump does to incite his base with bigotry, the more he inspires the rest of the country to support Joe Biden, who rightfully identified this dynamic as the 'battle for the soul of our nation' after neo-Nazis marched in Charlottesville three years ago. This battle rages on today, and those of us fighting for racial justice, equality and an end to bigotry will take our fight straight to the voting booth."
We can defeat Donald Trump and his Republican enablers in November — if we start working now. Join JDCA and Jewish Dems across the country every Wednesday from 5:30 to 8:30 PM ET as we call and text voters in key swing states. Join today! With your help, we will mobilize our neighbors and friends to make a difference in November.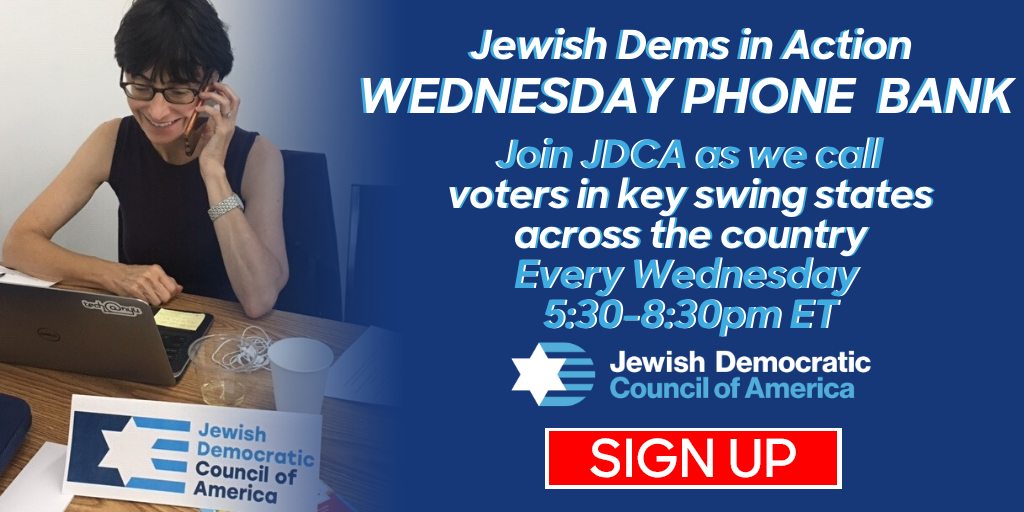 We hope you will become a part of our growing movement by signing-up for a state chapter in order to ensure that Trump and the hatred he inspires are defeated in November.
Sincerely,
Ron Klein,
Chair, Jewish Democratic Council of America
Halie Soifer
Executive Director, Jewish Democratic Council of America