Article
WE DID THIS – Elections delivered COVID relief
March 12, 2021
Yesterday, President Biden signed the American Rescue Plan into law, a historic achievement that will help every American navigate the turmoil of the COVID-19 pandemic. The President also addressed the nation, to convey truth, compassion, empathy, and hope that an end of the pandemic is in sight. This monumental shift would not have been possible without winning elections – and we all played a role in flipping the House, Senate and White House in the past three years.
This week demonstrated that elections and leaders matter, and President Biden is exactly the leader we need in this moment. We are grateful for his leadership of the American Rescue Plan, as well as the leadership of Democrats in the Senate and House who passed this critical bill. Let's face it – if we had not elected Senators Warnock and Ossoff in Georgia, this wouldn't have been possible. Elections matter, and our success in 2018 and 2020 paved the way for Democrats to pass legislation which will protect the lives and livelihoods of the American people.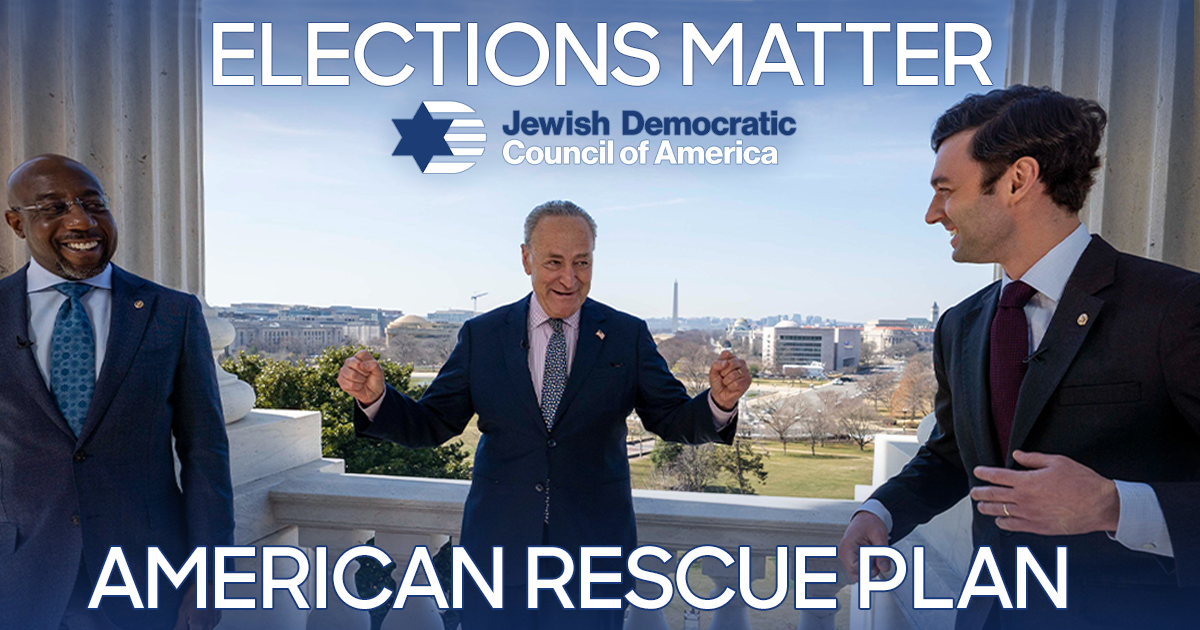 Even if you don't qualify for the $1,400 stimulus check, you still benefit from the many forms of relief included in the American Rescue Plan. With 
$14 billion allocated for vaccine distribution
, America is now closer to beating the pandemic. The American Rescue Plan will also 
lift over 4 million children out of poverty
 and will provide
 $21.55 billion in vital rental assistance
. Now that it is signed into law, the American Rescue Plan will help those who need it the most, which will help the entire country recover, both physically and economically, from the pandemic.
President Biden is 
halfway through his first 100 days
 in office and, as he said in his Thursday night address to the nation, 
"It's never, ever a good bet to bet against the American people. America is coming back…This country can do anything, hard things, big things, important things."
 In addition to passing the critically important American Rescue Plan, this week also included the confirmation of Attorney General Merrick Garland. In his first day at the Department of Justice, the new AG 
proved
 he is committed to fighting domestic extremism and holding the January 6 insurrectionists accountable. We're grateful for his leadership, and we're confident he will protect the Jewish community, and the entire country, from the rise of domestic extremism that threatens us all.
On Thursday, JDCA members joined a conversation with Representatives Brad Schneider and Tom Malinowski, moderated by the Executive Director of 
Integrity First for America
, Amy Spitalnick. The discussion focused on what Congress is doing to stop the rise of extremism and antisemitism. Our guests emphasized the importance of legislation like the 
Domestic Terrorism Prevention Act,
 which will address this threat and protect our community.