On Thursday, January 30, we're hosting a conference call at 5:00PM EST with leading experts on U.S. policy in the Middle East to discuss President Trump's plan regarding Israel, and we want you to be a part of it.
The call will feature Tamara Cofman Wittes, Senior Fellow in the Center for Middle East Policy at Brookings and former Deputy Assistant Secretary of State; Ilan Goldenberg, Senior Fellow and Director of the Middle East Security Program at the Center for a New American Security (CNAS) and former Chief of Staff to the Special Envoy for Israeli-Palestinian Negotiations; and Ambassador Dan Shapiro, Distinguished Visiting Fellow at Tel Aviv University's Institute of National Security Studies (INSS) and former United States Ambassador to Israel.
You won't want to miss this conversation, and you will have a chance to send in questions, so sign-up by clicking on the link below.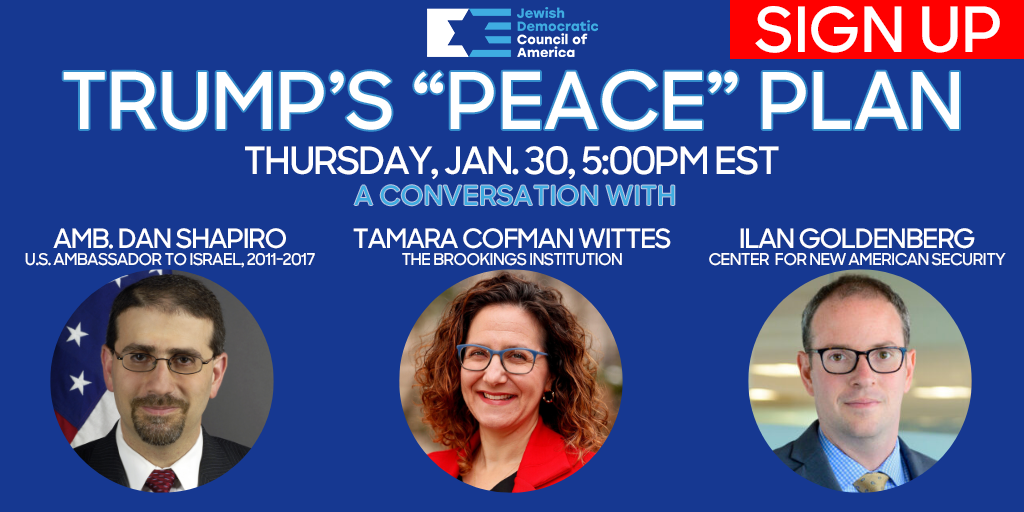 Like you, we were closely watching the rollout of the President's plan yesterday. We listened to what President Trump and Prime Minister Netanyahu had to say, read the plan in its entirety, and responded to what we view as a troubling set of principles detached from reality and
driven more by politics than peace.
Jewish Democrats are strongly supportive of the U.S.-Israel relationship, Israel's security, and Israel's right to self-defense. We have no illusions about the difficulty of achieving a negotiated two-state solution, and understand there are no shortcuts to peace. Despite some promising words on a page, the President's plan may actually impede prospects for peace by legitimizing unilateral Israeli annexation of parts of the West Bank and strengthening rejectionists on the Palestinian side. We are not surprised that, in response to the plan, the Israeli government announced plans to vote on annexing 30 percent of the West Bank, which will diminish the possibility of two states and may increase chances of violence and regional instability.
President Trump's "Peace to Prosperity" plan ignores one party to the conflict, imposes conditions on both sides, and raises more questions than it answers. That is why we have convened a panel of experts to provide their observations and analysis of the President's plan.
Join our call on Thursday, January 30, at 5:00PM EST by clicking below.