Friends,
We at the Jewish Democratic Council of America are celebrating the record number of Democratic wins on Election Day, and are proud of the role the Jewish community played in changing the trajectory of our country. Our commitment to bringing about political change consistent with our values was realized in the midterm elections. Democrats took back control of the House, and the Jewish vote made the critical difference in key races nationwide. JDCA is extremely proud that 87% of our endorsed candidates won, and over half of them flipped seats from Republicans to Democrats.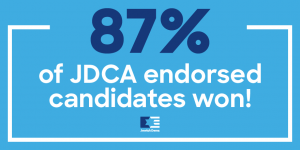 Jewish Dems Made the Difference
The Jewish vote was an integral part of Democratic success in the midterms, and JDCA made a difference in key races. JDCA strategically targeted and mobilized Jewish voters in districts and states where the Jewish vote helped to determine the outcome of the race in support of Democratic candidates. In races where JDCA endorsed candidates, we invested in significant digital and print ad buys nation-wide targeting more than half a million Jewish Democrats. We also organized hundreds of election volunteers across the country, and achieved a high return on our investments. Thank you for your support of these efforts – it made all the difference.
Exit polling revealed that 79% of Jewish voters supported Democrats in the midterm elections, which is higher than any other religious group. That is because our community rejected Trump's hateful and divisive rhetoric and policies, and demanded change consistent with our values. That moment for change has arrived. With Democrats in control of the House, we look forward to promoting policies that protect our democratic institutions, restore checks and balances, provide access to affordable healthcare, promote sensible gun safety laws, support the U.S.-Israel relationship, combat anti-Semitism and xenophobia, and ensure a culture of tolerance.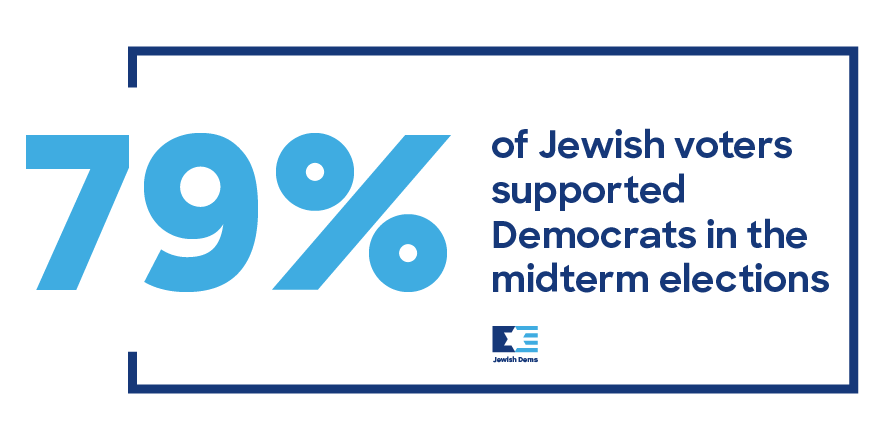 Every Vote Must Be Counted
While Election Day is now behind us, some key races remain outstanding and ballots are still being counted. Four races with JDCA-endorsed candidates are still in play. Krysten Sinema's race for Arizona's Senate seat has not yet been decided. Stacey Abrams' gubernatorial bid in Georgia may head to a run-off. In Florida, both gubernatorial candidate Andrew Gillum and Senate candidate Bill Nelson are now facing recounts. We will not rest until all votes are counted, and will continue to advocate for voter protections as we approach 2020. The future of our democracy rests on the credibility of our governing institutions, including the integrity of elections. All eligible Americans must have the right to vote, and every vote must be counted.
Voices from the Hill
Last week, JDCA held conversations with key Democrats to talk about the path forward. Listen below to Representative Ted Deutch (D-FL) explain what's next for a Democratic-controlled House in the 116th Congress, including the policy priorities of Democrats. Senator Chris Coons (D-DE) also explained to JDCA leadership the importance of Democrats leading with our convictions and values, especially given the divisive rhetoric that emerged in the lead-up to the election. Senator Coons spoke about Democratic wins in the House, and reflected on losses in the Senate.
Our Work Has Only Begun
Now that the election is behind us, we look forward to expanding JDCA's advocacy work to ensure a stronger future for our community and country. JDCA will continue to work with all elected officials to amplify the voices and values of Jewish Democrats, especially on Capitol Hill,  including with newly-elected Members of Congress. There are many challenges and opportunities ahead, and we need your continued support. We are thrilled with the outcome of this election, but there is no rest for the weary. Our work has only begun.
Shabbat Shalom,
Ron Klein
Chair, Jewish Democratic Council of America
Halie Soifer
Executive Director, Jewish Democratic Council of America