Article
Take back America – Jewish votes will make the difference in November
July 17, 2020
With 109 days to go before the November election, the Jewish Democratic Council of America (JDCA) is mobilizing voters in key states to elect Joe Biden, flip the Senate to Democratic control, and take back our country. We're optimistic and energized, and well aware of just how much is on the line in this critically important election – our democracy, health, security, and our values. We cannot tolerate four more years of Donald Trump, and we're doing everything we can to ensure he's defeated in November.
We want you to be the first to know about JDCA's "TAKE BACK AMERICA: Jewish Votes Will Make the Difference" national event, before the Democratic National Convention on Thursday, August 13, at 5:00pm ET. Plan to join us (virtually) on August 13 to laugh, learn and be inspired as we chart the path to victory in November. You can sign-up here or by clicking on the image, and check out our new calendar of events below!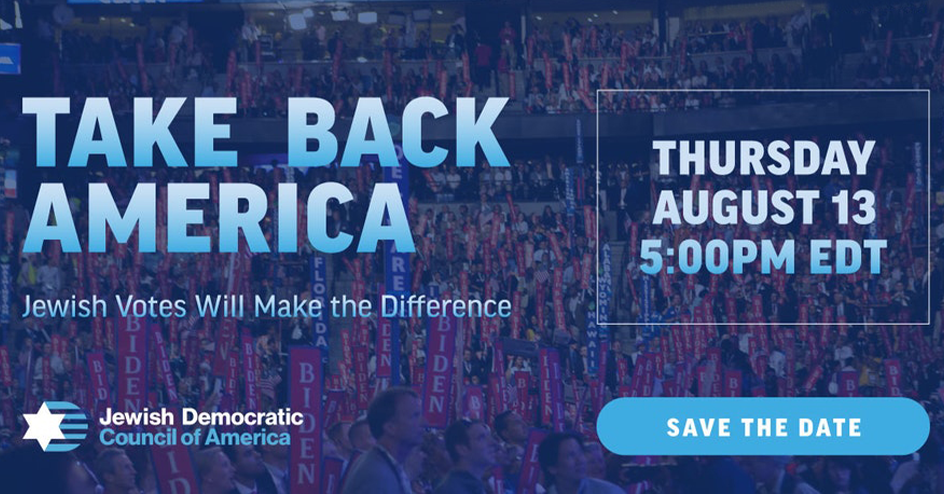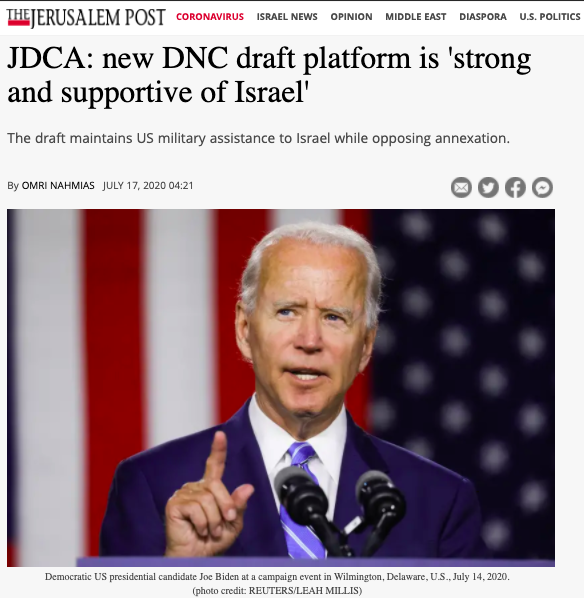 We're looking forward to the Democratic Convention, when Democrats will officially nominate Joe Biden and adopt the 2020 Democratic Platform, which will reaffirm Democratic Party's support of Israel, racial and ethnic justice, combating anti-Semitism, access to affordable education and healthcare, gun safety, and other priorities of Jewish voters. Now that the first draft of the Democratic Platform language is complete, we applaud the work of the Drafting Committee and are proud of the role JDCA played in helping to shape this language. Read our statement here, watch this video of JDCA Chairman Ron Klein explaining the importance of the platform, and read about it in JTA, the Jerusalem Post, and Jewish Insider.
Join us for our next "Democrats Leading in Crisis" webinar on Tuesday, July 21, at 2pm ET for "America in Crisis: A Time to Renew and Remake the Social Contract," with Rep. Jamie Raskin (D-MD). Rep. Raskin is serving on the House Select Committee on the Coronavirus Crisis, and will discuss Democratic proposals for helping all Americans recover from this crisis. You can sign up by clicking on the image below.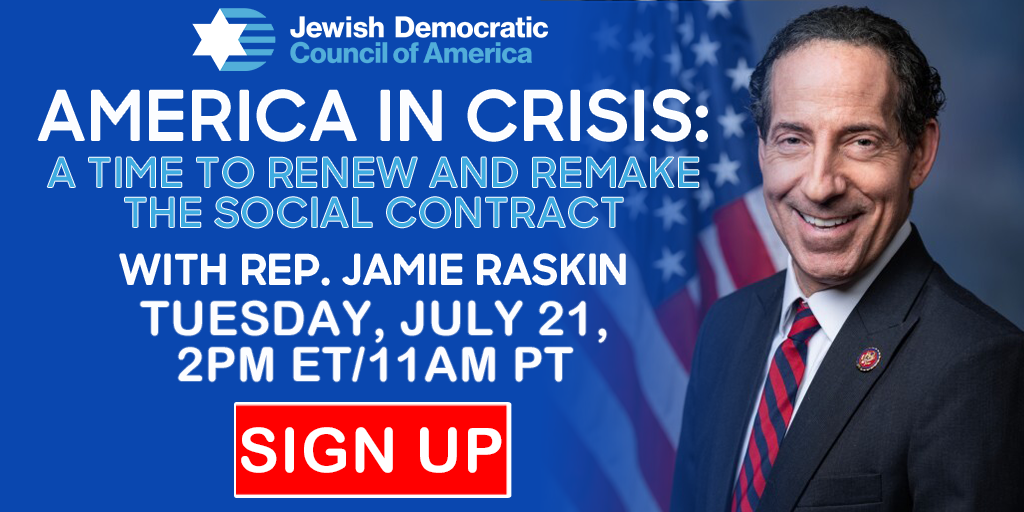 JDCA is mobilizing in advance of this critically important election, and we're asking you to join us. Please become a part of our growing movement by signing up for a state chapter and supporting JDCA today in our efforts to ensure a better and brighter future for all Americans.
Shabbat Shalom,
Ron Klein,
Chair, Jewish Democratic Council of AmericaHalie Soifer
Executive Director, Jewish Democratic Council of America