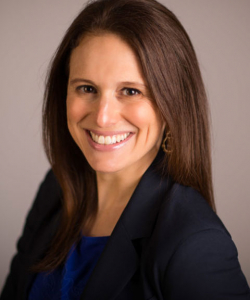 Halie Soifer, Executive Director
Halie Soifer is a seasoned congressional aide, Obama administration alum, and foreign policy expert, currently serving as Executive Director of the Jewish Democratic Council of America.
For more than sixteen years, Soifer served in various national security roles supporting Democrats in the U.S. Senate, House, and executive branch. Most recently, from January 2017 until May 2018, Soifer served as National Security Advisor to Senator Kamala Harris (CA), where she advised the Senator on matters related to foreign policy, defense, veterans, and cybersecurity.
Previously, Soifer served as foreign policy advisor for three members of Congress – Sens. Ted Kaufman and Chris Coons (both DE), and Rep. Robert Wexler (FL) – including serving as senior foreign policy advisor and Senate Foreign Relations Africa Subcommittee staff director during her four years working for Sen. Coons. Soifer also served in the Obama administration for two years as Senior Policy Advisor for U.S. Ambassador to the United Nations Samantha Power, and in the Bush Administration, where she served as a civil servant in the State Department's Bureau of Political-Military Affairs.
Soifer has a long record working on issues of importance to the Jewish community and of concern to Jewish voters. During President Obama's 2008 presidential campaign, Soifer served as the campaign's Florida Jewish Vote Director, where she led a successful statewide effort to organize the Jewish community in support of Obama during the general election. In her positions on Capitol Hill and at the U.S. Mission to the United Nations, Soifer served as a liaison to the Jewish community and organizations, and worked extensively on national security issues, including those related to Israel.
Soifer received her master's degree from the Johns Hopkins School of Advanced International Studies (SAIS) in Middle East Studies and international economics, and her bachelor's degree from the University of Michigan Honors College. She is a native of East Lansing, Michigan.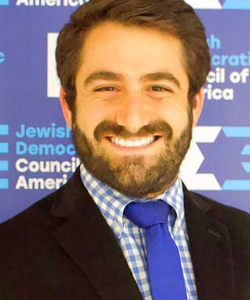 Samuel Crystal, Communications and Outreach Manager
Samuel's professional career has centered around U.S. – Israel relations and political advocacy in the Jewish community. He began his career by spending a year in Jerusalem as an Israel Government Fellow, where he attended over 100 seminars, lectures, and field missions studying Israeli politics, security, and paths toward peace. As the congressional affairs fellow, he briefed Israeli diplomats and Foreign Ministry staff on congressional legislation, the Iran nuclear negotiations, and the 2014 midterms.
From 2015-2017 Samuel was the director political affairs at the Consulate General of Israel to New England. As political director he helped develop and implement diplomatic strategy; organized political delegations; and organized public events between Israeli diplomats and governors, members of Congress, and local politicians. Samuel also spoke to Jewish communities throughout New England on Israeli democracy, the U.S. – Israel partnership, and Israeli security.
Samuel received his B.A. from the University of Mary Washington, and his Master's in Public Policy from the University of Maryland. He has served on the Advisory Council for Repair the World: Baltimore, was named a High Achieving Millennial by the SparkVision Millennial Research Project, and was described as a "Jewish leader of tomorrow" by The Associated, Jewish Federation of Baltimore.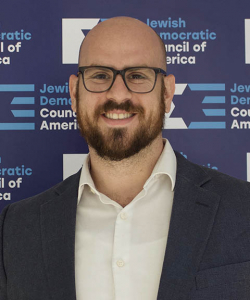 Terry Rydz, Policy and Operations Manager
In his role as policy and operations manager, Terry serves a multifunctional role that includes implementation of JDCA's policy agenda and long-term strategic plans.
Prior to joining JDCA, Terry was a Senior Associate at Beacon Global Strategies – a national security strategic consulting firm based in Washington DC. Before his time at Beacon, he served as an economic advisor to the Center for Naval Analyses, where he advised CNA Principal Researchers on Gulf States' economic diplomacy in the wake of the Arab Spring.

Terry received his B.A. from Florida State University in International Relations, and his M.A. in International Relations & International Economics from John Hopkins School of Advanced International Studies (SAIS). At SAIS, Terry led the Philip Merrill Center for Strategic Studies' study of Colombia's civil war. As part of this study, Terry managed a 12-person team and led two in-country research trips where he interviewed Colombian military officials. He also worked as a Research Assistant in the Office of Dean Vali Nasr. Terry is proud native of Miami, Florida.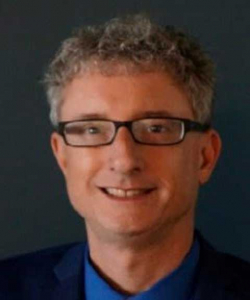 Steven R. Sheffey, Strategy and Policy Advisor
Steven R. Sheffey is President of Steven Richard Sheffey Consulting LLC, which specializes in public policy, communications, and government relations for businesses and not-for-profits. He writes and publishes the weekly Chicagoland Pro-Israel Political Update, which has thousands of subscribers in the U.S., Canada, Israel, and Denmark. His writing has appeared in publications such as The Huffington Post, The Jerusalem Post, The Times of Israel, The Hill, and The Daily Beast.

Steve is on the Tenth Congressional District Democrats (Illinois) leadership team, was slated as a delegate to the Democratic National Convention for Tom Harkin in 1992, Barack Obama in 2012, and Hillary Clinton in 2016, and advises and organizes events for candidates throughout the country. Steve currently serves on the Government Affairs Committee of the Jewish United Fund of Metropolitan Chicago and on the Board of Directors of North Suburban Synagogue Beth El. He has served on the boards of many Jewish community organizations, both at the local and national level.
Steve graduated from Northwestern University School of Law, where was a Notes and Comments editor on the Law Review. He received his B.A. in Economics from Northwestern University. He resides in suburban Chicago with his family.