Article
Speaker Pelosi is Standing up for America, and We Stand with Her
October 17, 2019
President Trump's failure in Syria is unprecedented. In a matter of days, he has abandoned our allies, strengthened our adversaries, betrayed our values, undermined our regional security interests, and damaged our credibility in the eyes of the world.
Yesterday, Trump met with House Democrats to discuss the crisis that he created, and – in true Trump fashion – made a bad situation worse by having an apparent meltdown. In this critical moment for our country and our democracy, we are incredibly grateful to Democrats in Congress serving as the essential and only check on President Trump, as epitomized by House Speaker Nancy Pelosi yesterday at the White House.
Amidst the president's reckless and irresponsible behavior, Speaker Pelosi is STANDING UP for America and our values. Speaker Pelosi calls it like she sees it. Yesterday, she expressed deep concern that, with President, "all roads lead to Putin." Speaker Pelosi is defending our democracy from President Trump's authoritarian instincts, and we STAND WITH HER.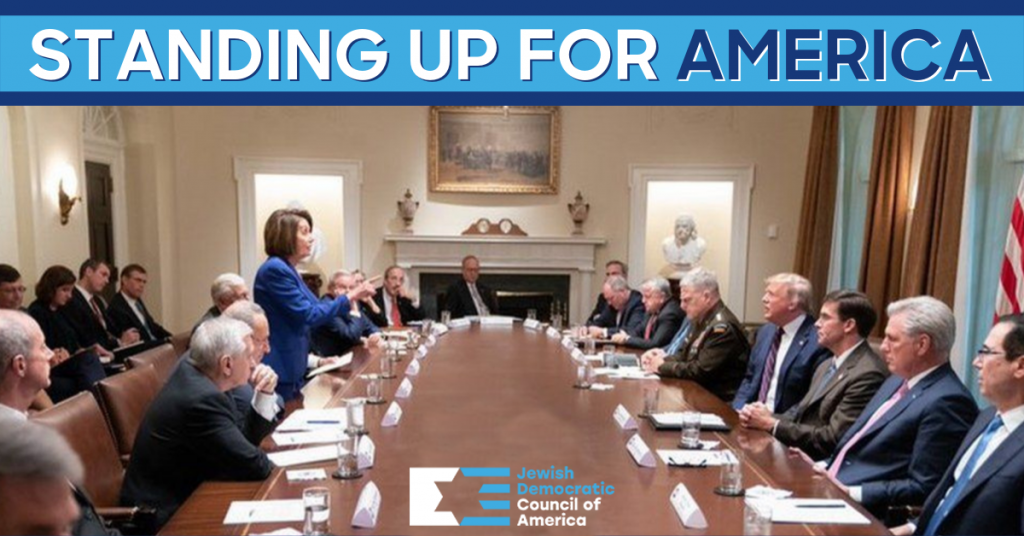 Democrats would not have this power had it not been for their historic win in the 2018 midterm election, underscoring for all of us just how much elections matter.
Our advocacy and political efforts are desperately needed, as it has become painfully clear that we have no responsible or credible leader in the White House and no check on the president from Republicans in Congress. JDCA is responding each day to these developments, giving voice to our values. In fact, earlier today, JDCA's Executive Director Halie Soifer was on Israeli television, i24, talking about Trump's disastrous mistake in Syria, its implications for Israel, and impeachment. Watch below.
Now is the time for Republicans and Democrats alike to put country above partisan politics, and condemn the corruption and recklessness in the White House. Instead, Republicans are dialing back their criticism, proving again that for them loyalty to and fear of Trump comes before duty to country. This, even after President Trump said yesterday that Syria "is not our problem…Syria may have some help from Russia and that's fine." With these words, the president laid bare a deeply uncomfortable truth – he doesn't understand, value, or care to defend America's national security.
Not only is crisis in Syria our problem, but it's also deepening instability on Israel's border, where Russia and Iran are strengthening their foothold. None of this had to happen. All of this is the direct result of actions taken by Donald Trump, and we all have an obligation to take action.
Earlier today, we lost one of our nation's great leaders, Rep. Elijah Cummings (D-MD). Congressman Cummings was uncompromising in his commitment to the values that truly define what makes America great, including equality and justice for all. Congressman Cummings' remarkable legacy serves as an inspiration to all who aspire to lead with their values, and the Jewish community is incredibly grateful to Rep. Cummings for his persistent leadership, partnership, and support.
JDCA is deeply committed to electing officials like Congressman Cummings who represent our values, and our mission has never been more important. With your help, we can continue to expand our work and ensure we're successful.
Chag Sameach,
Ron Klein,
Chair, Jewish Democratic Council of America
Halie Soifer
Executive Director, Jewish Democratic Council of America