Yesterday, we joined Democratic leaders in supporting a formal impeachment inquiry. Like Speaker Pelosi and Democrats in Congress, we do not take this decision lightly.
Guided by our Jewish values, we believe it's essential to defend our democracy and support the rule of law, as well as checks and balances in government. History is watching, and nothing less than the future of America's democracy is at stake.
No one is above the law, and Congress must now follow the facts wherever they lead regarding President Trump's conduct, which appears to have violated his oath of office to preserve, protect, and defend the Constitution.
This is not a partisan decision – it is unequivocally in the best interests of the United States.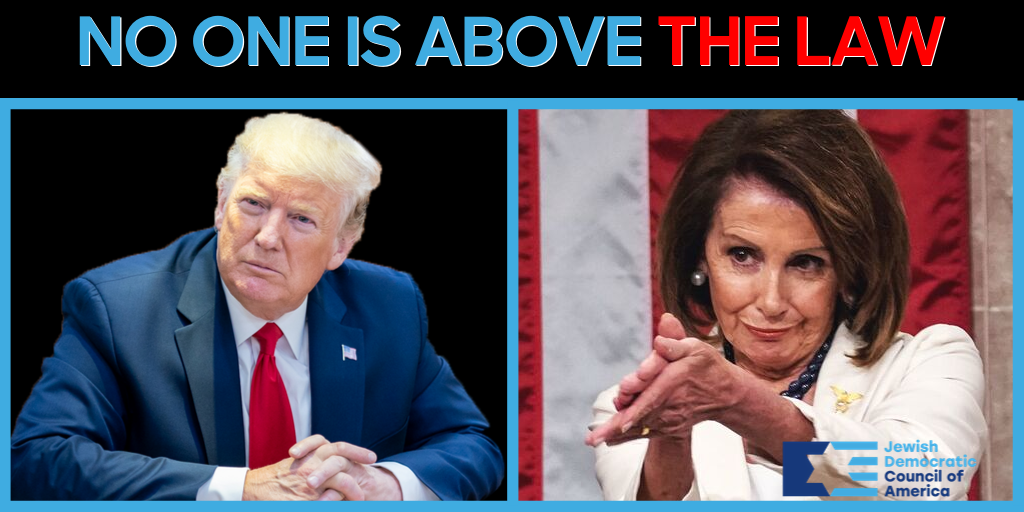 At this moment in our nation's history, it is worth considering where we would be if Democrats had not won control of the House in 2018. We would have no check on the Republican agenda, which has been antithetical to our values.
We would also have no check on this president's reckless, irresponsible, and potentially illegal behavior.
Republicans conducted no meaningful oversight of the executive branch when they were in the majority during the first two years of the Trump administration. They'd probably still be investigating Hillary's emails if they were in control today. Elections matter, and it's clear that the election of 2018 was one of the most important in our history.
In 2018, JDCA endorsed 58 Democratic candidates who shared our values. We're proud that 84% of them won their election, including 28 who flipped seats from Republican to Democratic control, which helped to shift the majority in the House.
The 2018 blue wave made an essential difference, and we are proud to have played a critical role in mobilizing the Jewish vote. Our work has only increased as we look to the 2020 election, and as we expand our efforts to win back control of the Senate and the White House.
At this critical time, we are looking to you. Please support our efforts today by taking action:
Thank you for your support.
Ron Klein,
Chair, Jewish Democratic Council of AmericaHalie Soifer
Executive Director, Jewish Democratic Council of America