Article
NEW POLL: There is NOTHING Trump can do to win over Jewish voters – join us tomorrow at 3pm ET
September 14, 2020
Tomorrow, Donald Trump will sign an agreement establishing diplomatic relations between the UAE and Israel, as well as Bahrain and Israel. While we welcome openings between Israel and Gulf States, we see tomorrow's signing ceremony for what it is – a recklessly-planned foreign policy stunt driven first and foremost by Trump's political agenda, and a potential security risk to Israel given plans to sell advanced fighter jets to the UAE. The Israeli government itself does not know the details of the agreement it's signing tomorrow, and is opposed to the sale of F-35 to the UAE, which would endanger its qualitative military edge (QME).
Donald Trump's policy toward Israel, including the UAE agreement, has not persuaded any Jewish voters to support him. A new poll from the non-partisan Jewish Electorate Institute (JEI) demonstrates that there is nothing Donald Trump or Republicans can do to move the needle with Jewish voters. Trump's numbers are the same as they were in February with Jewish voters, and Joe Biden is leading him by nearly 40 points.
The Jewish vote is effectively locked-in in support of Joe Biden, whom Jewish voters trust more than Donald Trump on every issue, including Israel, but also access to affordable health care, gun safety, climate change, and anti-Semitism — and these are the issues driving the Jewish vote.
Jewish voters have made up their minds for 2020, and they are voting against Donald Trump because of his failure handling coronavirus, his efforts to deprive Americans of access to health care, his threats to social and racial justice, and his emboldening of anti-Semitism and white nationalism.
Read more about the poll below, and join us for a call about Israel, the UAE agreement, and the Jewish vote TOMORROW, Tuesday, September 15 from 3:00 to 4:00 ET with former U.S. Ambassador to Israel Dan Shapiro, Dana Stroul, Senior Fellow at the Washington Institute for Near East Policy, and JDCA Executive Director Halie Soifer. Register now so that you don't miss it.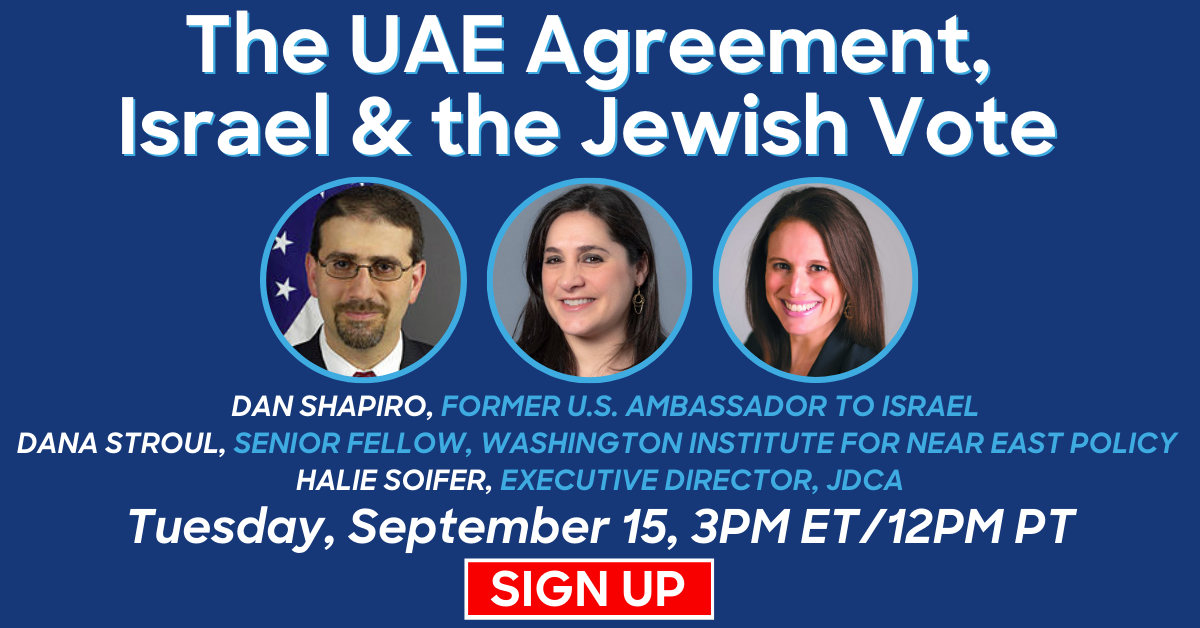 In just four days, we'll celebrate Rosh HaShanah, but it will be a new year like no other with families separated, people isolated, and some loved ones lost forever to a pandemic that could have been curbed sooner. It did not have to be this way. It should not be this way. And if we elect Joe Biden, it won't be this way again.