Article
Let's put a mensch in the White House
August 21, 2020
This week, we were inspired by the Democratic National Convention (DNC). We were moved by four nights of remarkable speeches, and are more committed than ever to electing Joe Biden and Kamala Harris. It was a quite a convention – unlike any other – full of remarks that revealed Joe Biden's character, compassion, integrity and values.
Joe Biden is a mensch, and he's just the mensch we need to restore the soul of our nation. Check out and share our new ad that features the story told by Delaware Rabbi Michael Beals at the DNC by clicking on the image below. And be sure to join our many upcoming events to ensure we send this mensch to the White House.
Michelle Obama said on Monday that "Donald Trump is the wrong president for our country. He has had more than enough time to prove that he can do the job, but he is clearly in over his head. He cannot meet this moment. He simply cannot be who we need him to be for us. It is what it is." But it doesn't have to be that way. As Michelle continued, "If we have any hope of ending this chaos, we have got to vote for Joe Biden like our lives depend on it."
Jill Biden said on Tuesday that "love makes us flexible and resilient. It allows us to become more than ourselves—together." She believes, and we agree, "that the heart of this nation still beats with kindness and courage. That's the soul of America Joe Biden is fighting for now."
Our next vice president, Kamala Harris, said on Wednesday that "there is no vaccine for racism" and that she is committed to a "vision of our nation as a beloved community — where all are welcome, no matter what we look like, no matter where we come from or who we love."
And last night, Joe Biden proved once again that he has the decency, wisdom, and integrity to lead us out of the morass that Donald Trump has created. He recalled when Donald Trump claimed neo-Nazis were "very fine people," promised to be a president for all Americans, and outlined his vision for making this a more just and equitable country for all.
Last night, we also heard from Rabbi Michael Beals, the Delaware rabbi featured in our new ad, who told a story that revealed the character of Joe Biden. Read more about our latest ad campaign and Rabbi Beals in the Forward and the Jerusalem Post.
Join JDCA's Virtual Schlep for 2020 by joining one of our virtual organizing events and visit our online store and buy your family, your friends, and yourself some swag to let everyone know who you support.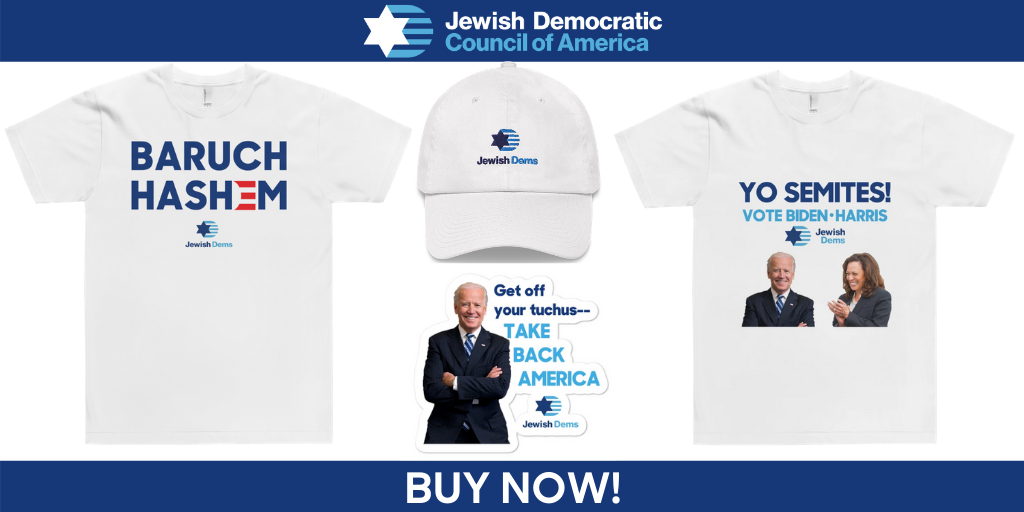 Become a part of our growing movement by signing up for a state chapter and supporting JDCA today. Together, we will restore the soul of our nation and ensure a brighter future, and we're grateful for your partnership and support.
Shabbat Shalom,
Ron Klein,
Chair, Jewish Democratic Council of America
Halie Soifer
Executive Director, Jewish Democratic Council of America