It has been a week of mourning and reflection, and now it is time for action. The midterm elections are just four days away. These are the most important elections of our lifetime, and make no mistake – these elections are a referendum on President Trump and the dark direction he has led our country. The elections are an opportunity to change this trajectory and bring about change for the future. Our ability to create change can be summed up in one word, Vote.
It's been less than a week since eleven Jews were horrifically murdered in the deadliest act of anti-Semitic violence in our nation's history. The Jewish Democratic Council of America (JDCA) responded quickly and decisively to this horrific tragedy, expressing condolences to those lost and mourning this immeasurable loss. We also responded by taking action, initiating a petition calling on President Trump to denounce white nationalism and speaking out against the anti-Semitism that Trump has espoused, legitimized, and allowed to fester. As JDCA Executive Director Halie Soifer wrote on CNN.com, Donald Trump did not pull the trigger in Pittsburgh, but Donald Trump is to blame for helping spread the hate that fills the hearts of those who commit such egregious acts of violence.
We cannot be silent in the face of hatred. We cannot let our grief blind us to the role that Trump's rhetoric played in bringing about this darkness, nor can we absolve Republicans in Congress for their silence and complicity in enabling hateful policies that are antithetical to Jewish and American values.
The time for change is NOW, and we all can make a difference at the polls. We know these elections will be extremely close, and we must Get Out the Vote. It's up to all of us to take action in order to elect a Democratic majority that will restore checks and balances to government. Join JDCA in canvassing, phone banking, and making sure that everyone you know has voted. And if you can't join us, then please consider supporting JDCA's efforts. We can win, but we can't win without your help. Every phone call, every door knocked, every contribution can make a difference in this election for Democrats. Most importantly, VOTE!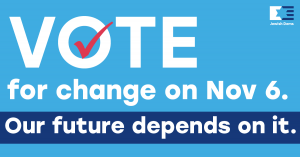 Once you vote on November 6, tune-in to JDCA's website on election night for updates on the 58 critical races where JDCA has endorsed candidates and played a role, and join us on Nov. 7 at 1:00 pm EST for a post-election briefing call with Congressman Ted Deutch (D-FL) and JDCA leadership. Read on to learn more about how JDCA is making a difference and how you can join our efforts.
We Mourn. We reflect. We take action. We vote.
After the horrific attack in Pittsburgh, JDCA has responded strongly and unequivocally. We mourned and reflected, because in order to heal our nation and community, and move forward we must do both.
JDCA has also taken action calling on Trump to denounce white nationalism and combat anti-Semitism. Join us by adding your name to the petition below.
WE VOTE. Take Action with Jewish Dems to Get Out the Jewish Vote
JDCA has many ways for you to get involved to help bring about a blue wave on November 6. We encourage you to check-out our volunteer event calendar here. Please join us at our next phone bank or canvass, or reach out to create your own event! Jewish Dems buttons will be provided to everyone who participates in our volunteer efforts, and we need your help to win on November 6. For more on volunteer efforts specifically, please email [email protected]. Most importantly, don't forget to VOTE!
Something else you can do is to call your children, parents, grandparents, siblings, and neighbors, and tell them how important it is to vote. Tell that that their vote could make difference in a close election. Remind them to send in their absentee ballots and offer to drive people to the polls on Election Day. And again, VOTE!
Election night updates and post-election briefing
Tune-in to the JDCA website on election night for updates on the races. We will provide up to the minute reports on our homepage. Also, join JDCA the day after Election Day, on Wednesday, November 7 at 1:00 pm EST for a briefing call with Congressman Ted Deutch (D-FL) and JDCA leadership. We will discuss the election results, the Jewish vote, and the impact Jewish Dems had on this election. The call is open to all JDCA supporters. If you haven't already supported our efforts, please consider doing so today.
Shabbat Shalom. VOTE!
Ron Klein
Chair, Jewish Democratic Council of America