The presidential primary season is now in full swing after Iowa and New Hampshire, which is good news. It means we're that much closer to the 2020 election, when we hope to elect a president who shares our values. Political change in the White House and the Senate is necessary, within reach, and potentially around the corner so long as we work together to bring it about in November.
While it is too early to know who will emerge as the Democratic nominee for president, it's clear this is the most important election of our lifetime, which will determine the character of our nation and our future. President Trump's continued assault on our institutions of justice and rule of law – as demonstrated this week by his acts of political retribution targeting those who spoke the truth during impeachment – underscores the need for our movement, which aims to elect a president who shares our values.
While Jews are overwhelmingly pro-Israel Democrats, they are largely voting on a wide range of domestic policy issues. U.S. policy toward Israel is a threshold issue for Jewish voters, which means that it's important to them, and that candidates have to meet that threshold of support. The overwhelming majority of – nearly all – Democrats are supportive of Israel, which is why Jews are voting largely on domestic policy issues, where there's the widest range of distinctions between Democrats and Republicans. For more on the Jewish vote, please see our "Frequently Asked Questions About the Jewish Vote" resource below.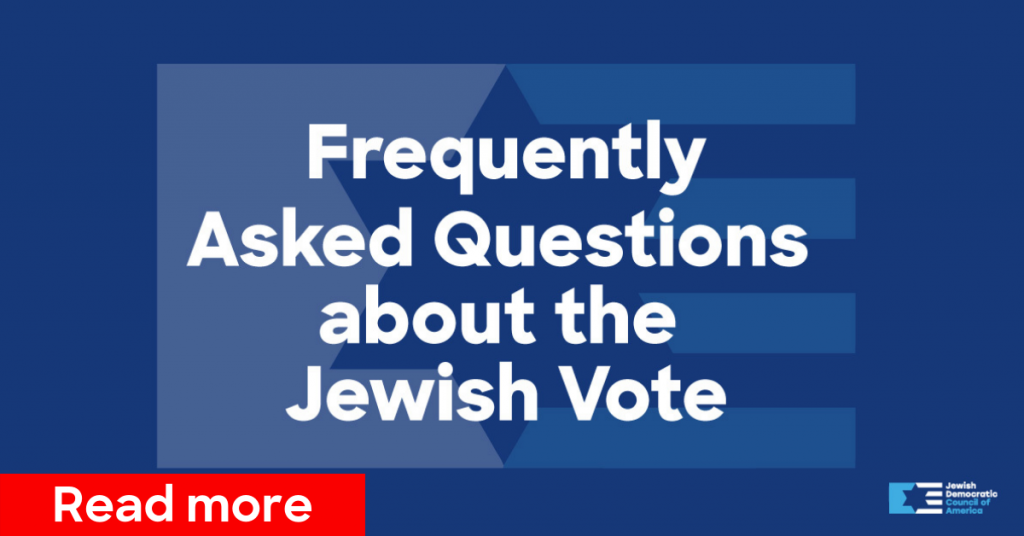 Unfortunately, the U.S.-Israel relationship has been increasingly politicized by Republicans and used to divide Democrats in an attempt to win Jewish votes. It's very harmful to play this cynical game, particularly when we know that Israel is at its strongest when it has bipartisan support.
It is essential to arm yourself with the facts in order to refute false narratives and to understand where the Democratic candidates stand on this issue. The Jewish Democratic Council of America (JDCA) is here for you as a resource on this – and other – key issues in the 2020 election. Keep reading for more on where the Democratic candidates stand on Israel.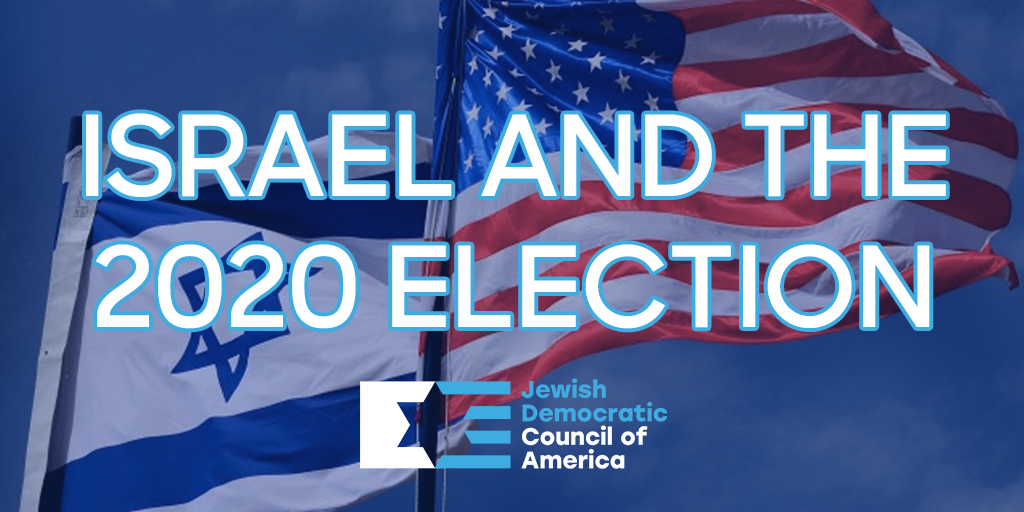 So, let's set the record straight –
all 2020 Democratic presidential candidates:
Support U.S. military assistance to Israel;
Support Israel's right to exist in safety and security as a Jewish state;
Support a negotiated two-state solution to the Israeli-Palestinian conflict; and
Oppose the global Boycott, Divestment, and Sanctions (BDS) movement.
These are the cardinal principles of – what has historically been and should continue to be – bipartisan support for Israel. Some of the Democratic presidential candidates do differ on some issues related to Israel, particularly when it comes to the possibility of conditioning U.S. aid or precluding its use for unilateral Israeli annexation of the West Bank. 
JDCA does not support unilateral Israeli annexation of areas of the West Bank, nor do we support reducing or conditioning U.S. aid to Israel. JDCA has made clear that we support full funding of aid to Israel, per the U.S.-Israel Memorandum of Understanding (MOU) negotiated by President Obama in 2016. For more on where the candidates – and JDCA – stands on this issue, please see below:
One essential reminder as we navigate the next few months together – let's not let Republicans set the agenda or narrative when it comes to Israel, or any other issue. We should judge each candidate on the totality of his or her record on Israel and the myriad of other issues we care about. Most importantly, let's remember that our goal is defeat Donald Trump in November and elect candidates who share our values.
That's why we will do all we can to preserve the Democratic House majority and elect a Democratic president and a Democratic Senate. And we will succeed with your help, because we cannot afford to fail. Stand proudly with Jewish Dems and help us win in 2020 by taking the following steps:
Our mission has never been more critical. With your help, we can continue to expand our work and ensure we're successful. We are incredibly grateful for your partnership.

Ron Klein
Chair, Jewish Democratic Council of America
Executive Director, Jewish Democratic Council of America