Friends,
Three weeks after the midterm election and just in the time for Hanukkah, the tallying of votes for the House, Senate, and gubernatorial races is finally complete. With each passing week, it has become clear that the Blue Wave that swept the nation on November 6 was truly monumental, as demonstrated below by our "monumental midterm menorah." Democrats netted a total of 40 House seats, which is the largest midterm gain for Democrats since Watergate. The margin of support for Democrats in the 2018 elections – which totaled more than nine million votes – was the largest midterm vote margin for either party in history. The Jewish Democratic Council of America (JDCA) is incredibly proud of our contributions to this historic election win, which included engaging over half a million Jewish voters, helping to secure 49 Dem wins, and flipping 28 seats from red to blue. Now that the elections have passed, we are thrilled to begin planning for our advocacy agenda for the 116th Congress, and to speak out on issues of importance to the Jewish community. Read on to learn more, including how you can join us in advocating for our values…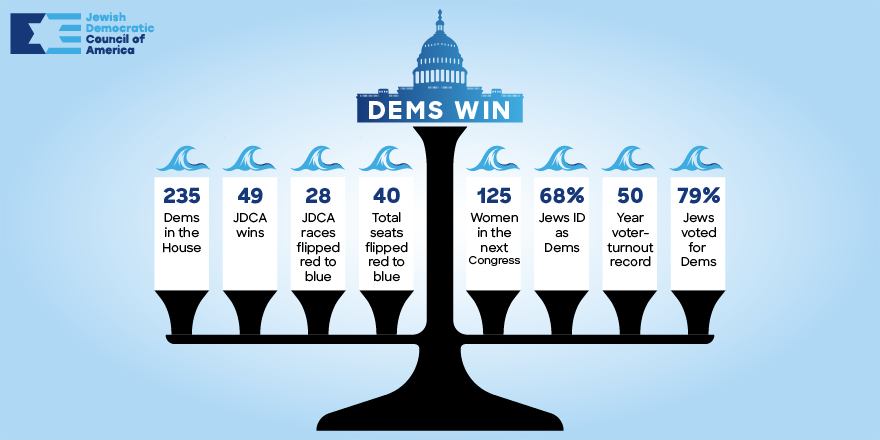 Jewish Dems are Planning for the 116th Congress
Tune-in for more about the JDCA advocacy agenda in the coming weeks when we debut our "Blueprint for Jewish Advocacy" in the 116th Congress. Key issues we plan to engage on include:
1. Supporting the U.S.-Israel relationship and opposing BDS
2. Promoting social justice, equality, human rights, and freedoms
3. Combating anti-Semitism and other forms of discrimination
4. Protecting democratic institutions and the right to vote
5. Defending against climate change and other environmental threats
6. Promoting comprehensive and humane immigration reform
7. Advocating for common-sense gun reforms
8. Supporting access to affordable healthcare
Take Action with JDCA
While we are looking forward to new leadership and advocacy opportunities in the 116th Congress, there is still work to be done in the 115th Congress between now and the end of the year. Just last week, thirteen U.S. federal agencies released the Fourth National Climate Assessment, which outlined the potentially catastrophic impact of climate change and underscored that we must take action NOW to protect our environment. Despite the urgency, the President and most Republican members of Congress have refused to act. Our Jewish values tell us that we have an obligation to protect our planet, our neighbors, and our children to create a brighter future. Join us by adding your name to JDCA's petition demanding that Congress immediately take action to combat climate change.

The investigation into foreign interference in the 2016 presidential election led by Special Counsel Robert Mueller has taken on new urgency this week, and remains threatened by the White House. President Trump has repeatedly threatened to fire Special Counsel Robert Mueller, and Republican Leader Mitch McConnell has repeatedly blocked bipartisan efforts to protect the investigation. The Mueller investigation is essential to the future of our democracy and rule of law, and must be protected to avoid a constitutional crisis. Join JDCA in advocating for the Senate to vote on bipartisan legislation introduced by Senators Chris Coons (D-DE) and Jeff Flake (R-AZ) that would protect Special Counsel Mueller and allow him to continue with this critical investigation.

Jewish Dems Oppose Sen. Paul's Effort to Block U.S.-Israel Aid Package
In this lame-duck session of Congress, numerous bills are awaiting passage on the Senate floor. One of them, the U.S.-Israel Security Assistance Authorization Act of 2018, authorizes the $38 billion, ten-year Memorandum of Understanding between the United States and Israel agreed to in 2016. This bill, which has overwhelming bipartisan support in the Senate and House (and would have passed unanimously), was blocked by Sen. Rand Paul (R-KY). On Wednesday, JDCA called on Republicans to "stand with Democrats in opposing this obstructionist and damaging effort by Senator Paul, and allow the U.S.-Israel Security Assistance Authorization Act of 2018 to move forward without further delay."
JDCA Chairman Ron Klein Featured in the National Journal
JDCA Chairman Ron Klein talked with reporters at the National Journal to explain why JDCA is so uniquely important. As he explained, JDCA melds "the values and philanthropies of the Jewish communities with the political system. No one else does that on the Democratic side. We can educate new members of Congress on what we believe in; we want them to view us as the go-to place for understanding what the Jewish community is thinking." Click below to read more.
JDCA Wishes Everyone a Happy Hanukkah
The Jewish community is of course diverse, but we share core values and principles, which is why 82% of the two-party Jewish vote – a 64 point margin of support – went to U.S. House Democrats in the midterms. This is one of the largest margins of Jewish support in history and more than 50 points higher than the overall eight-point margin of support that American voters across the country gave to Democrats. If this isn't a great Hanukkah gift, we don't know what is. As we gather with our families next week to kindle the menorah, we wish you all a happy Hanukkah!
Shabbat Shalom,
Halie Soifer
Executive Director, Jewish Democratic Council of America