Article
Democrats Delivered – Republicans Refused Relief
March 9, 2021
Jewish Dems are thrilled that the Senate passed President Biden's American Rescue Plan, which will provide Americans with essential economic relief. This rescue package provides vital funding, including $1,400 stimulus checks for individuals making less than $75,000 ($150,000 for couples). The American Rescue Plan will lift over 4 million children out of poverty, cutting child poverty in America by 42%. This historic piece of legislation is a victory for every American, and Jewish Dems are proud to support it. In the next day, the bill will be considered by the House of Representatives. Help push this bill over the finish line and on to President Biden's desk – urge your member of Congress to support the bill.
Despite overwhelming bipartisan support for the relief package from the American people, not a single Republican Senator voted to pass the bill. Their refusal to help Americans in need and continued assault on our democracy represents the shameful dereliction of duty we've come to expect from the GOP. Meanwhile, Jewish Dems are defending democracy by taking action and providing opportunities for you to engage in advocacy and the political process. We know that our work is far from over – to pass more legislation to help the American people, Jewish Dems are taking action to increase our House and Senate majorities in 2022. We hope you will join us as a JDCA member. Our work has never been more vital.
ICYMI: Last week, hundreds joined us as JDCA's Ohio Chapter hosted the first congressional candidate forum of the OH-11 Democratic Primary. Candidates know that JDCA is the political address of Jewish Dems and that our forums are the best way to reach Jewish voters. Last week's forum marked the first time that all of the candidates made their case on a shared virtual-stage, and they chose JDCA's stage.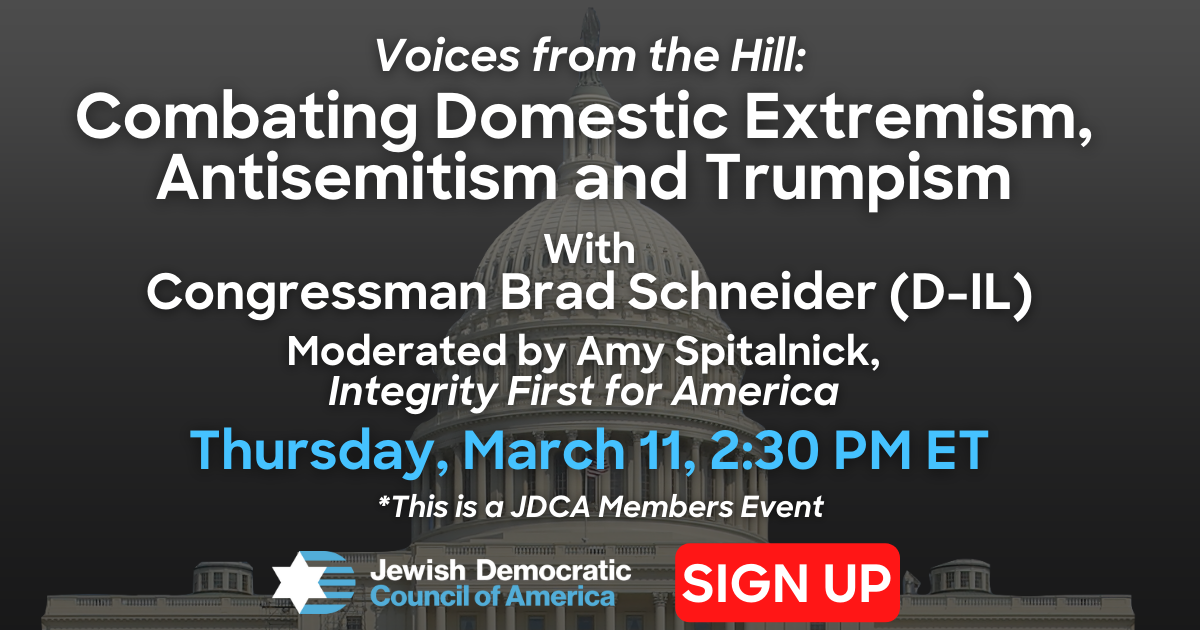 Thank you for your continued support and partnership. If you aren't already a member, we encourage you to
become a member today
. We look forward to seeing you on 
Thursday
and continuing to fight for our Jewish and Democratic values.