Article
306. Landslide. Blowout. Historic.
November 13, 2020
It's official. Americans overwhelmingly chose decency over hate. Truth over lies. And science over fiction. Joe Biden and Kamala received 306 Electoral College votes in this historic election, and our values and our votes propelled them to overwhelming victory.
In 2016, Trump Campaign Manager Kellyanne Conway declared that 306 Electoral College votes was a "Landslide. Blowout. Historic." We agree, and are so glad that those 306 votes will go to Joe Biden in 2020.
We are proud of the fact that Biden won with 77% of the Jewish vote, which made a critical difference in key swing states, and were grateful to celebrate this win with nearly 500 of you earlier today. We enjoyed a shehecheyanu and singing with actor Mandy Patinkin and musician Elana Arian, learned more about the Jewish vote in 2020 with preeminent pollster Jim Gerstein, and heard inspiring insights from Senator-elect John Hickenlooper, Reps. Deutch and Slotkin, and Congresswoman-elect Kathy Manning. For more on the how the Jewish vote made the difference in this election, click on the image below, and be sure to check out clips from today's special election celebration.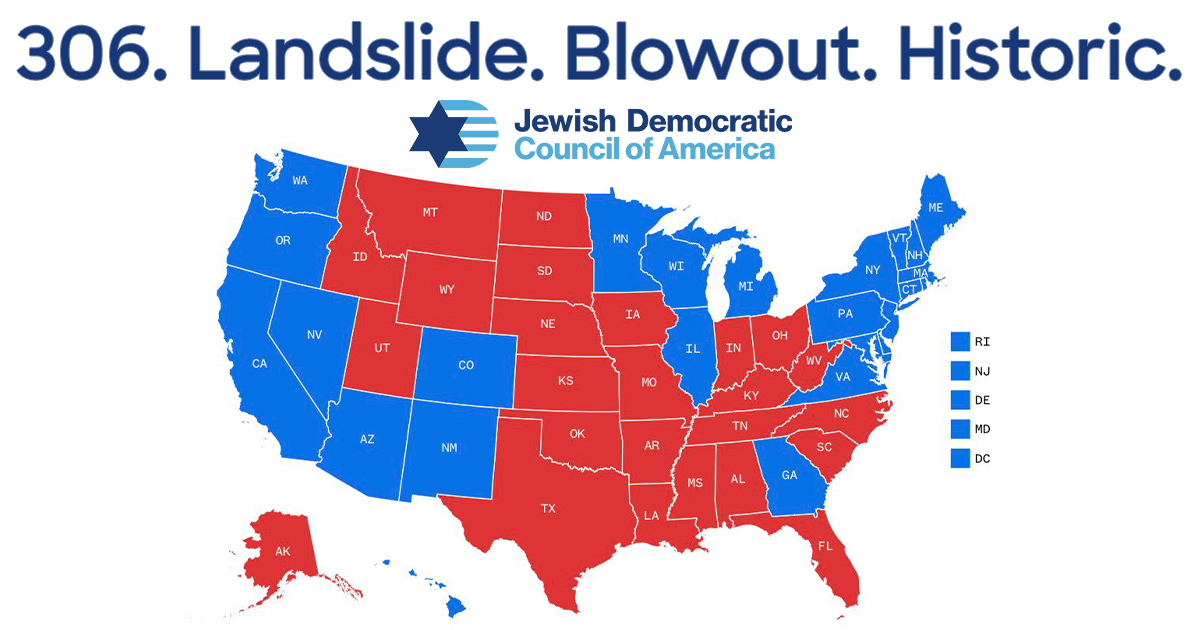 MANDY PATINKIN CELEBRATES WITH JDCA
Nearly 78 million Americans voted to restore the soul of our nation with Joe Biden and Kamala Harris. Now we have to win two Senate seats in Georgia to ensure Joe Biden and Democrats can succeed in lifting us out of crisis, quelling the flames of hatred, and protecting and supporting all Americans.
Which brings us to Georgia, where the two Senate run-off elections on January 5 will determine whether Mitch McConnell or Democrats control the Senate. Jewish Dems strongly support Democratic candidates Jon Ossoff and Rev. Raphael Warnock, and will be phone banking, texting, advertising, canvassing and doing all we can to keep Georgia blue. Click here or on the image below to volunteer with us, donate by clicking here or on the button below to support our efforts.
You can also text WIN-GA to 243725 to donate instantly. Every dollar counts.
Make sure to check out the Jewish Dems store, where you can find new items like JDCA masks, and "Warnock Your Ossoff" and "Keep Georgia Blue" shirts and stickers! Click on the image below.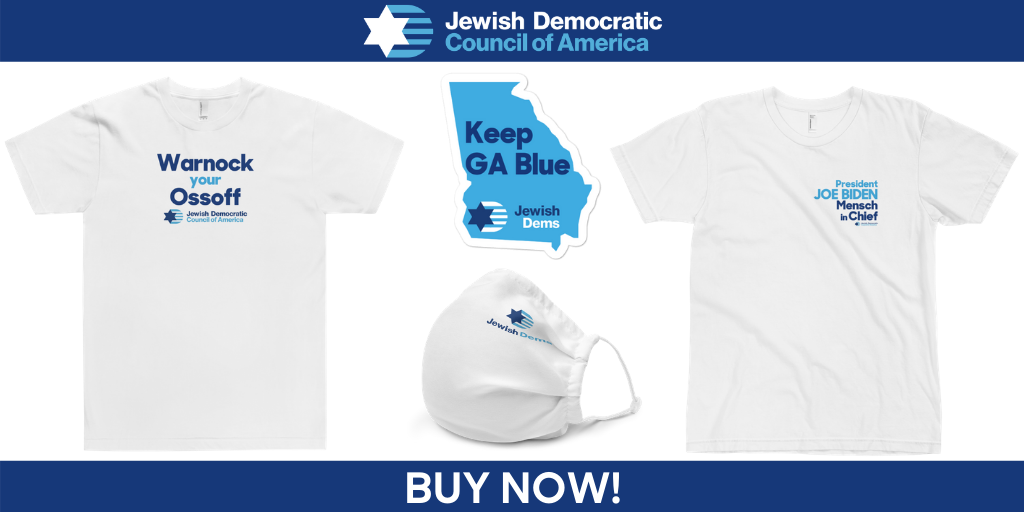 We have much work to do, and with your continued support, we will keep fighting and build on our successes. As we start this Shabbat with a new President-elect, we are so grateful for his historic victory and for your partnership, which made it possible.
Shabbat Shalom,
Ron Klein,
Chair, Jewish Democratic Council of America
Halie Soifer
Executive Director, Jewish Democratic Council of America